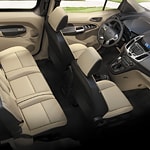 The Ford Transit Connect is a wonderful passenger wagon. This passenger wagon also has the versatility to be able to be a great cargo van when needed. Whether you buy this vehicle for fun or work we would love to show you every versatility feature at Thomason Ford.
Some of the versatility features for the interior or the lay-flat seating in the back rows. When the seats are up there are also very comfortable and provide plenty of legroom.
If you are interested in using this passenger wagon for traveling you may want to consider the towing capacity that is at 2,000 pounds or lower. There is also a great roof rack that can help you add larger gear if you don't want to tell. You can add items on the roof such as water equipment, bikes, or a luggage box.