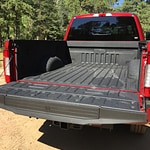 The Ford Super Duty is the most capable truck for personal use in this brand's inventory lineup, but what makes it so impressive? Powering through tough jobs, the Ford Super Duty has access to several engine options which allow for power customization. Pairing up with a 10-speed automatic transmission, every Ford Super Duty engine is tough and up for any job. Boasting seriously towing and hauling power, the Ford Super Duty is also often used for heavy-duty work purposes.
Impressive horsepower generation is an everyday occurrence for every Ford Super Duty model. In fact, its integration of a 7.3-liter engine makes up the largest engine to ever be used in a full-size pickup truck. This engine can generate up to 430 horsepower, which is plenty for daily towing and hauling responsibilities. In addition, 475 lb.-ft. of torque also makes its appearance in this model's power regimen.
The many engine options of the Ford Super Duty are the main selling point for this model. A 7.3-liter V8 kicks things off in this model's engine lineup, and it is followed by a 6.7-liter Power Stroke Turbo Diesel V8 option. Then, a 6.2-liter Flex Fuel V8 comes onto the scene making its mark as the best engine available for the Ford Super Duty.